Written by Farah Khan, South London Chapter Lead
Seems like this December many of us took advantage of easing travelling restrictions to visit Pakistan; a long overdue trip.
Along with a visit to Lahore and a family wedding in Karachi, Tahir and I were fortunate to be able to arrange a visit to the TCF College and School in Qayyumabad, Karachi, a 'katchi abadi' district that packs more than 70,000 people into an area three times the size of the grounds of Buckingham Palace.
Visiting just one day after college had reopened and having weaved our way through Karachi's morning traffic, our car pulled into a school ground teeming and abuzz with the hustle and bustle of dozens of children on their mid-morning break.
We were greeted by two articulate and sociable alumni, Muhammad Faraz (now 1st year BBA undergraduate at SZABIST) and Mohammad Nisar (now 3rd year BBA undergraduate at IOBM Karachi). Speaking English and conducting themselves with confidence and pride, both Faraz and Nisar gave us a tour of TCF's inaugural college.
Starting from the college's open-air central courtyard, boys and girls had set up a badminton net and were busy whooping a shuttlecock back and forth.
Turning a corner we came across the library, Computer, Physics and Chemistry labs, in addition to numerous lively classrooms.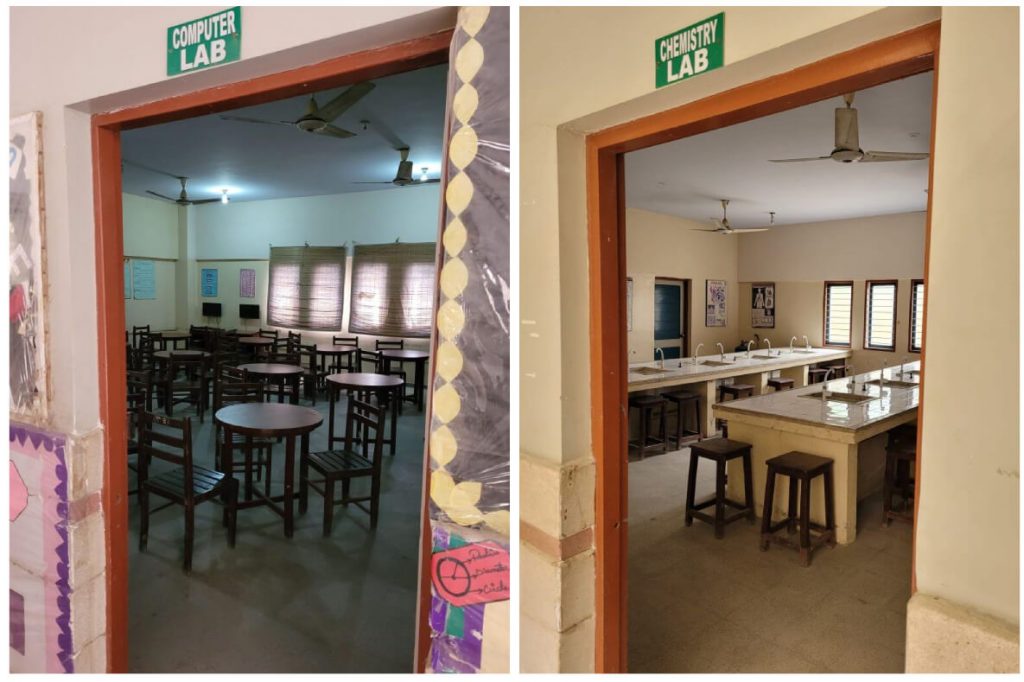 These labs were not kitted out like anything you would expect in an average school in the UK. They were rooms with desks and chairs; the Chemistry lab had workstations and sinks but the general idea is that students are provided the resources and equipment they need when working in those facilities.
Moving upstairs, Nisar showed us the Assembly Hall where students meet weekly and where achievements are celebrated building a sense of community and shared success.
As we navigated scurrying students clutching bundles of hot rotis and bowls of steaming salan, Faraz showed us the well-decorated and colourful canteen, all painted by the students themselves during 'Rang Tamasha'.
Even with such rudimentary facilities, it was heart-warming to see Faraz and Nisar beam with pride as they talked us through not only the academic offering but their whole college experience.
The TCF College has an intake of 230 post-matric students, who after studying Intermediate for 2 years (similar to Sixth Form in the UK) have dreams of pursuing engineering or business programs in mainstream universities that would otherwise be out of reach. The program is highly sought after and attracts students from as far as Balochistan, chosen on merit alone. It is the only TCF college of its kind at the moment with a gender ratio of 60% girls.
Working in education myself (as an A-level teacher), what struck me were the aspirational display boards emblazoned on the corridor walls. One showed the variety of careers available to them, and another the values of the school.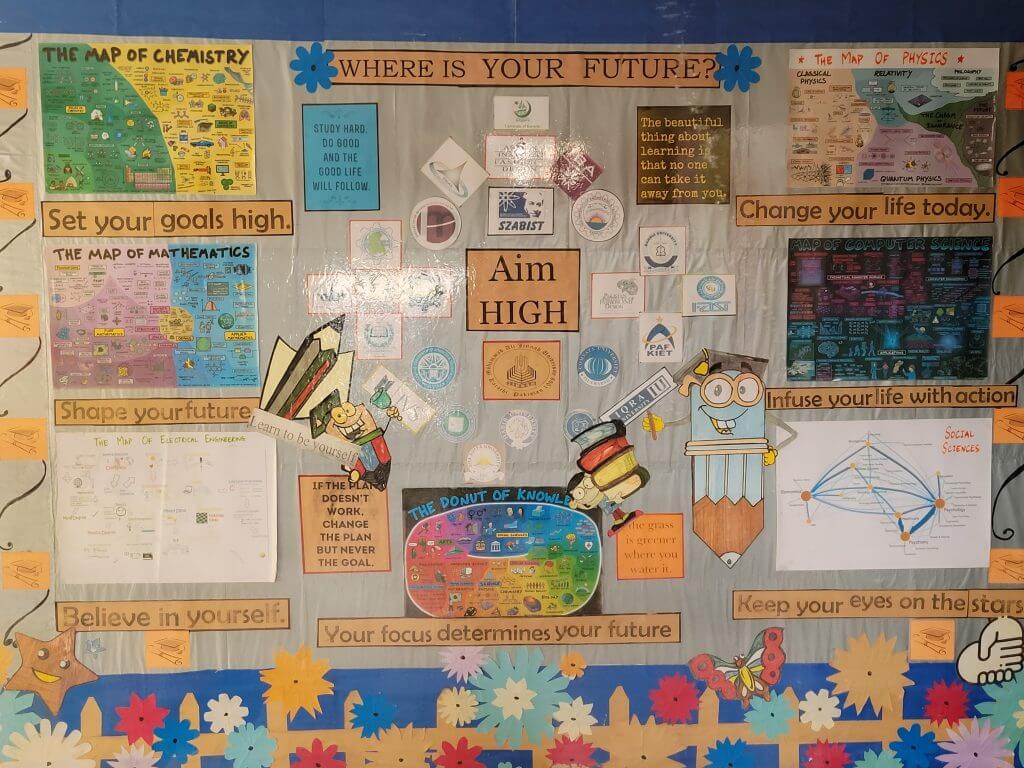 It was clear that TCF's ethos is to instil in its students aspirations to step outside the jurisdiction of their personal circumstance, to open their minds to opportunity far beyond the vocation of their parents, to reach new heights… and to believe in better.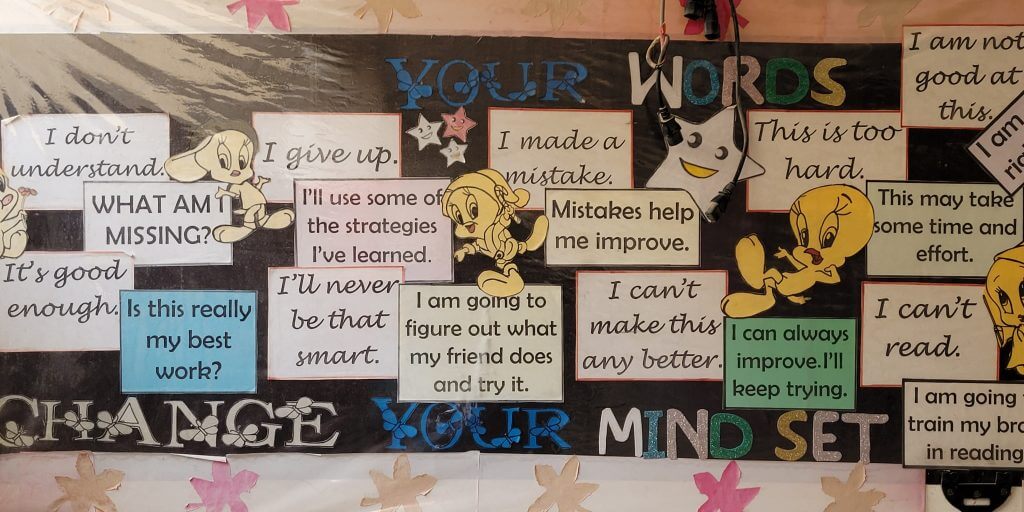 The personal support provided at the college to each student also impressed us. Each student is assigned a Faculty Academic Advisor; a personal mentor who provides guidance and motivation. Mohammad Nisar recounted fondly how his mentor would quote the Surah 'alam nashrah laka sadrak' to him (shall We not expand your chest, and ease you of your burden) to motivate him. He told us how he still kept in touch with his mentor and the personal connection that they formed which inspired him to stay focused and pursue his dreams.
We were struck by the thorough and holistic development of each student who attends the college, right from the start. Students coming to TCF college, generally from urdu-medium, often start a foundation program immediately after their Year 10 (Matric) exams so they can hit the ground running as subjects at college are all taught in English as this is also the medium of University.
Moreover extra-curricular activities also build confidence in the students such as a competitive House system, a recent outing to Magnifiscience (an interactive science centre in Karachi), as well as university preparation assistance.
Is it any wonder that TCF Alumni often go on to attend the top universities both in Pakistan and abroad?
For Tahir and myself, coming from the South London chapter, the trip was a truly rewarding experience and one that all supporters would benefit from. Meeting the students made us feel connected to our cause.
May TCF students continue to persevere in their endeavours and may Allah grant them success. We hope that more colleges like this allow many more deserving students to realise their dreams and overcome the obstacles that cross their paths with Ardour, Leadership, Integrity, Perseverance and Humility (ALIPH).
---
Tahir Mughal and Farah Khan have been long-time supporters of The Citizens Foundation (UK) and have been instrumental in growing and leading TCF-UK's South London Chapter. The pair have hosted numerous fundraising events over the years, not only raising vital funds for deserving children in Pakistan but also spreading awareness of TCF's cause and mission across their network of friends and family.
If you would like to visit a TCF school on your next visit to Pakistan, please write to us at info@tcf-uk.org or call 020 3585 3011.