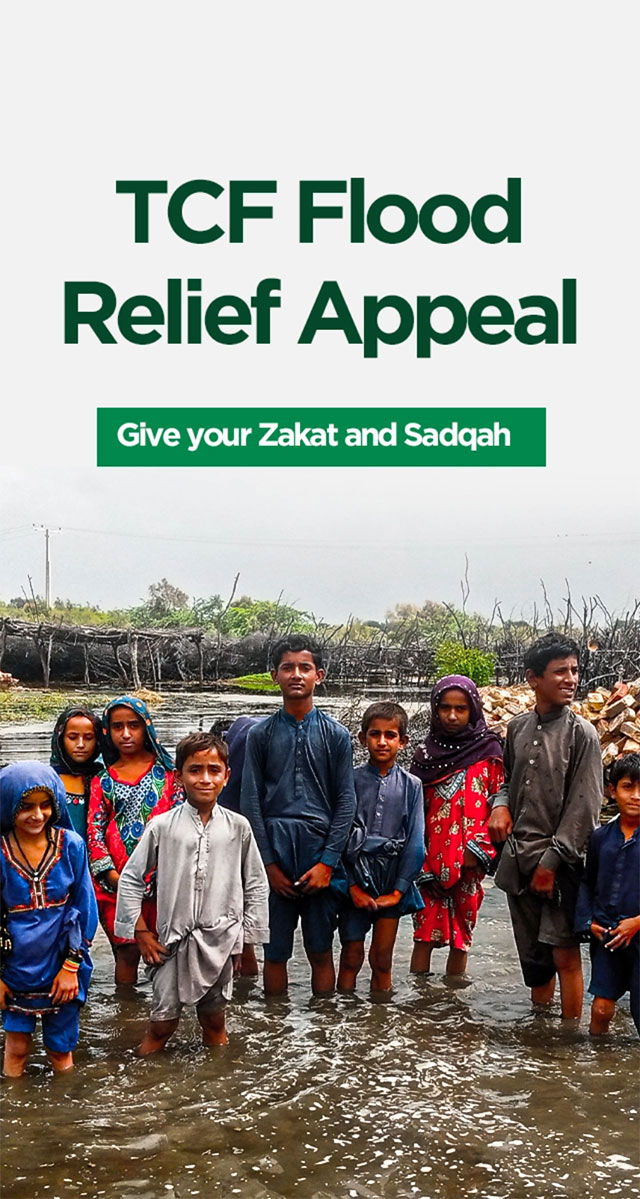 Donate generously to support affected families and communities in Pakistan.
The devastating floods have caused unimaginable damage to the most vulnerable communities in Pakistan. People have lost their lives, homes and livelihoods. Many TCF schools have been severely damaged, while others have served as temporary refuge for displaced families.
During this critical time, TCF launched a Flood Relief Appeal to provide immediate relief and comfort to those who needed it most and was able to deliver over 5 million meals. However, thousands of communities still need help to rebuild their lives and return to normalcy.
Your Zakat and Sadaqah for flood-affected families will provide life-saving resources to help rebuild homes and ensure TCF schools are rehabilitated as the flood water recedes.
All funds contributed to the TCF Flood Relief Appeal are Zakat eligible.
Meals

5,227,275

Households Covered

65,758

Districts

32
With your help, we intend to:
Provide Five Million Meals to affected families
Help Reconstruct Homes for Nine Thousand Families
Rehabilitate our Schools damaged by the floods
Ways to Donate
Give Online
Make a one-time online donation
Donate by Cheque
Make cheques payable to The Citizens Foundation (UK). Post to
TCF-UK, 48 Charlotte Street, London W1T 2NS.
Bank Transfer
Transfer your Zakat and Sadaqah by direct transfer
Raise Funds for TCF
Start fundraising by creating your own digital campaign at fundraise.tcfglobal.org
Donate via SMS
Text EDUCATE followed by the amount you wish to donate to 70480. T&C's apply.