Educate a child this Independence Day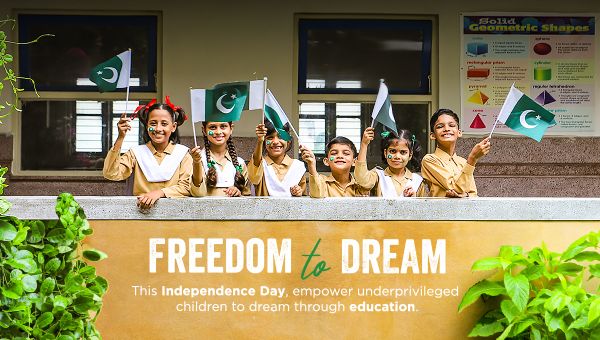 The freedom to dream begins with education…
From stepping into a classroom for the first time, to making friends and to imagining a future full of endless possibilities – having access to an education empowers us with the ability, ambition and freedom to shape our own future.
Today, thousands of children across Pakistan are stuck in the cycle of poverty, waiting and hoping for the life-changing opportunity to go to school. They deserve a fair chance to have an education, discover their dreams and make long lasting friendships.
As we unite to celebrate Pakistan's 75th Independence Day, pledge your support to education and transform a child's life by breaking the cycle of poverty and empowering their dreams of a better future.
Independence 2022
Most parents encourage their children to dream big. And why shouldn't they? Life is full of endless possibilities, and every parent believes their child has a right to be happy and successful.
Yet, all around us are children who can't even dream of a better life. We invite you to donate towards educating children born without privilege and opportunity.
Ways to Donate
Give Online
Make a one-time or recurring online donation
Donate by Cheque
Make cheques payable to The Citizens Foundation (UK). Post to
TCF-UK, 48 Charlotte Street, London W1T 2NS.
Bank Transfer
Transfer your Zakat and Sadaqah by direct transfer
Raise Funds for TCF
Start fundraising by creating your own digital campaign at fundraise.tcfglobal.org
Donate via SMS
Text EDUCATE followed by the amount you wish to donate to 70480. T&C's apply.