In a kindergarten classroom in Islamkot, a tehsil (township) in the Tharparkar Desert in Sindh, a child named Mehtab eagerly writes his name in English on the blackboard. He does a perfect job – carefully forming each letter of his name and then reading it loudly. However, it is not until the research team rubs off the last two letters of his name and asks him to read, that he gives them a blank stare.
Mehtab has rote learned his name, just as he is expected to rote memorise his textbooks.
This meaningless memorisation of information happens in classrooms across Pakistan, where children's language and cultural context is not taken into consideration. It has led to a crisis – one where children who regularly attend school can't read or write a simple sentence in any language albeit being in school for several years.
In an attempt to address this issue, The Citizens Foundation (TCF) and the Thar Foundation have published a research report called "Finding Identity, Equity, and Economic Strength by Teaching in Languages Children Understand."
This research report proposes how Pakistan, which has over 70 native languages, and countries with similar challenges across the world can incorporate 'mother tongue based multilingual education' into their education systems. The term "Mother tongue" refers to the language that children first learn at home and have a good understanding of when they first come to school. "Multilingual" refers to the expectation that children will learn several languages during their education – in Pakistan, these are regional languages like Sindhi and Pashto as well as Urdu and English.
Ms. Zubeida Mustafa, a renowned journalist and author of 'The Tyranny of Language in Education: The Problem and Its Solution', commenting on the release of this report says,"Language can facilitate children's social, cultural and intellectual development or it can hurt their capacity to learn. The failure to look at language as a crucial component of education per se has resulted in our failure to spread literacy and learning in the country. I am glad that TCF and Thar Foundation have come forward to present this report and have started implementing this programme in their schools."
The report reflects three years of work in Tharparkar, Pakistan, interviews with over 130 practitioners, policymakers, and academics worldwide, and cataloguing of language policies in similarly diverse countries. It adds to the literature on MTB MLE by solving for contexts where there are many mother tongue languages and where children are expected to learn up to four languages, including English, by the end of secondary school.
Testing a tailored MTB-MLE Programme in Tharparkar Desert, Sindh
In early 2020, both TCF and Thar Foundation schools implemented this research-based MTB MLE model in 21+ classrooms in Tharparkar, starting with pre-kindergarten and kindergarten. Students in these classrooms will transition through fluency in three or four languages over the course of their education: from diverse mother tongue languages (Dhatki and Sindhi) to the regional language (Sindhi), then the national language (Urdu), and then to an international language (English). All higher education in Pakistan is in English, making English a necessity.
Ms. Sabeen Shah, CSR Manager at the Thar Foundation shared, "When a kindergarten teacher of Thar Foundation School switched the medium of instruction from English to Dhatki, he triumphantly transformed the two weeks of limited interaction with the children into a class eager to interact and engage. The teachers of Thar foundation realized that they would have to try something daring and different and seek solutions that would not only enrich the lives of children through imparting quality education, but also bring quality in their lives."
Unlike a lot of research that precedes this study, TCF does not just insist on mother tongue based approach to education. Instead, it provides pragmatic recommendations for how Pakistan, and countries like it, can provide mother tongue based education in contexts where there are many languages and where children are expected to learn up to four languages, including English, by the end of secondary school.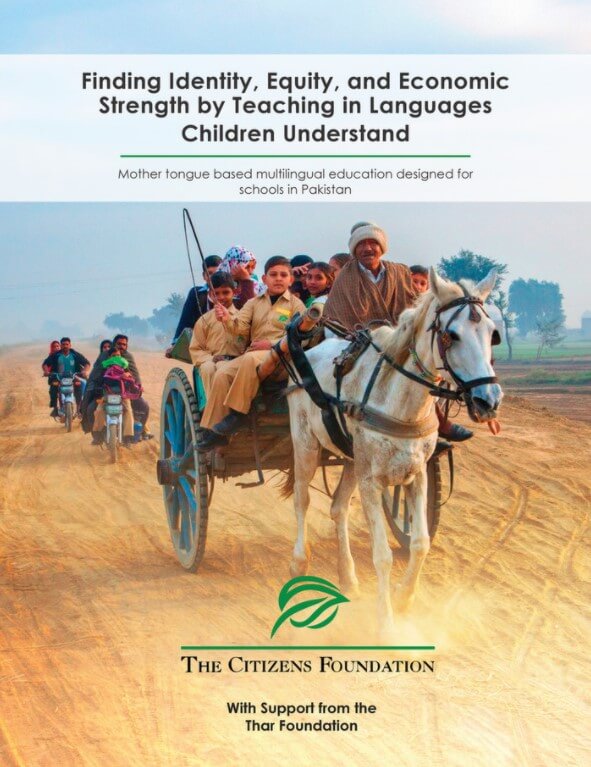 Finding Identity, Equity, and Economic Strength by Teaching in Languages Children Understand
With Support from the Thar Foundation