The sweet scent of mangoes fills the air as we enter a small, mud-brick home in a dusty street of the urban slum, Khuda ki Basti, Karachi. The power is out, mosquitos buzz around, and rainwater is seeping through the roof. In stark contrast, we are greeted by a rather cheerful man, Muhammad Ahmad, a fruit-seller, stacking up mangoes on his pushcart, smiling from ear to ear.
"With my earnings, it would not have been possible for me to put Asad [my son] through a good school, college and university," shares Ahmad. He leads us to the veranda where we join his wife and children who are waiting on a charpoy. He continues, "I had to drop out of school at a young age to support my family. It is my dream to educate all my children and TCF is making it possible."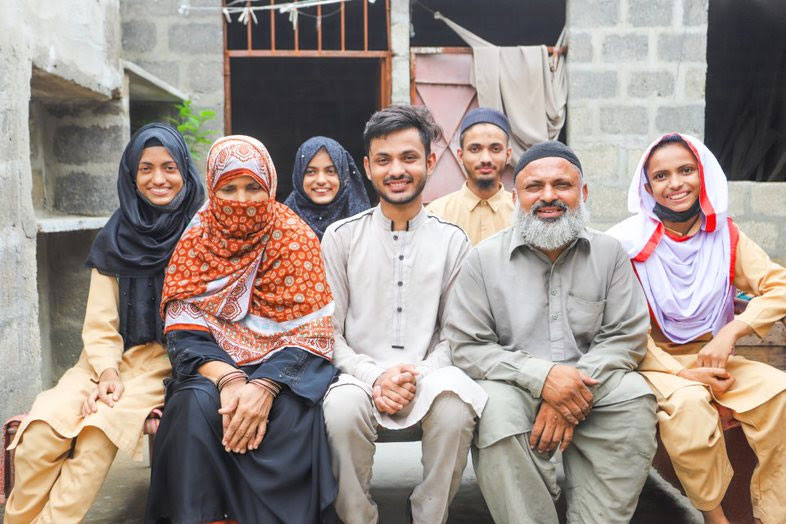 "In our community, boys are expected to take up full-time jobs at a young age but Baba (father) encouraged me to focus on my education," shares Asad, a TCF school and college alumnus. "When I was leaving for university, he handed me some money for my living expenses which he had been saving to get our roof fixed. When I hesitated, he told me: 'The repairing of our home can wait, but this opportunity might not come again'."
Asad, who graduated from Pakistan's prestigious Ghulam Ishaq Khan Institute of Engineering Sciences and Technology, is ready to begin his first job at a software company. Two of his younger siblings, Saad and Sadia, are currently first-year students at TCF College while his two other sisters, Haadiya and Tooba are studying in Classes 9 and 7 at a TCF school in their community – all of whom have big dreams of their own and want to follow in Asad's footsteps!
With your continued support, thousands of children can fulfil their dreams and create a brighter future for themselves, their families and their communities.